20.03.2018 14:14
Inspiration is everywhere, says Czech student working with Indian children from New Light
Barbora Benčíková is 24-year-old girl whose field of study is video at FAVU in Brno. Nowaday she lives in India. This girl emits calm and positivity. The right word that can describes her artistic creation is unconventional. She is a versatile artist and her sphere of interest is not small. She is a photographer, a painter, a makeup artist, a creator of comics and also a tattoo artist. She came to India where she and her friends work with children rescued from the claws of prostitution.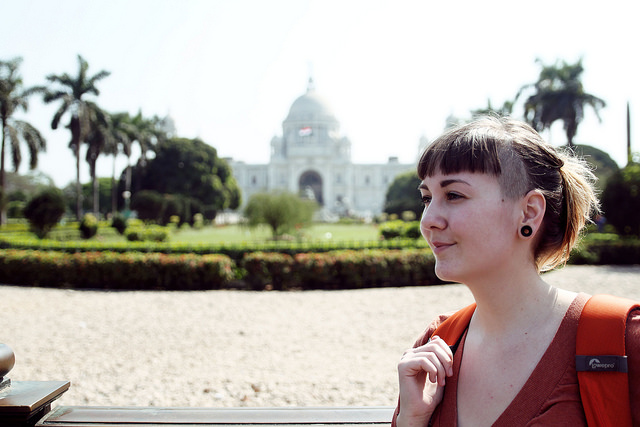 Her interest in art started at elementary school. Her first camera was a one-time compact. "My mother furnished me with them to school in outdoors. I made a pretty series of abstract photos then. The main star of them was my finger in front of the lens. Otherwise, I used to doodle pictures by pen on my hands, which I kept on doing till these days," explains Barbora whose visage and outfit accent her laid-back personality. Nowadays, she paints with tattoo needle instead of pens.

Her next big creative step was conjunct with a signature. In the age of four she drew on aunt´s wall. "I subscribe MÁRAR and thereunto i wrote this word with the flipped R. This bodacious action, I think, commenced my artistic career," tells Barbora with a roguishly smile.

Her work is very distinctive. She makes videos, takes photos, paints, draws or does ezo comics. Nowadays you can see her comics exhibition in Chajovna in Brno. Comics show sketches from everyday life and make fun of spirituality or allude to prejudices or stereotypes." I definitely do not want to offend anyone … people which are characters in comics mostly laugh and want another one," laughs Barbora. Her love is also traveling.

About four years ago, she tried living in the community arts center in England. Since then, she has a slightly different view on her life. According to her traveling changes people, mainly when you travel alone. Because on the road you are actually never alone. In England she also met an older British man who had just written a book about his exotic expeditions. He told her that if she is seeking for a spiritual journey, it is not a good idea to go to India. He said that only dirt, dust, poverty, and perhaps some wise men she can meet there. "And at that moment, I was clear that once I will go there out of spite," she says "cause i am not looking for a spiritual journey in India, all life of everyone is already spiritual journey, you don't have to go to India to find yourself. I think, actually, that in India you can find out,that there is much more than just yourself." she ads with a roguish smile.

And she was not mistaken. Now she is speaking with me from India. She and her friends got the first idea of leaving the Europe for India last summer after comeback from trip in Vienna, where they were busking and did magic-music street performance. "We decided that we would like to give our traveling some new dimension and so we created our Finding New Light project," explains Barbora whose do not missing moxie to realize planes true.

They launched a crowdfunding campaign for emotion work with kids and raised some money for the project. The remainder of the cost they financed by themselves.They are cooperating with New Light which is organisation inside the red-light district in Kolkata. The project helps children of sex workers and other children whose parents couldn't take care of them to have safe surroundings.

"Those children are all smart and really talented and actually they teached us a lot also.I think we made strong connection with them because those kids are open-minded, they like to show what they know and they are really incredible. Most of them speak fluently english, even one who is 10 years old, they are helping each other, they have lot of talents like dancing, playing tabla (indian drums), singing ,drawing etc. Some of them also speak just bengali so we have to talk by our hands and legs sometimes, but the more fun we have. I already know that i will really miss those beautiful smiles and friendship we found with them. But leaving India is not the end. As i will come back home I will work on the documentary about this trip and about the work with those kids. I think some of their personal stories will be in documentary also, but it's not easy to talk with them about it, because I just don't want to hurt them again. So it's really sensitive talk and after a month i am still fighting with myself what is a right thing to do."

If you are interested about the project or Barbora's artworks you can also follow her on fb or instagram. (fb: Barbora Bau Benčíková / insta: bau_mnau)

"And please, if you want to help grow up this project,check the official NGO website www.newlightindia.org/ or our fb page @Finding New Light where you can also find out more information. You can come to India and work as a volunteer here. Which I think it is still really needed."
Klíčová slova: travelling, India, New Light, Barbora Benčíková, profile story
Fotogalerie
Hodnocení příspěvku
1 | 2 | 3 | 4 | 5 (1 - nejhorší, 5 - nejlepší)
Vkladání nových komentářů skončilo.
AUTOR
Zobrazeno 959×
Hodnocení 2.4 z 5
NEJNOVĚJŠÍ
12. 12. 2018 00:39
11. 12. 2018 15:41
10. 12. 2018 16:43
09. 12. 2018 23:04
09. 12. 2018 22:22