14.05.2018 19:39
Little adventures are never enough, think people who attend events called microadventures
It is the third Sunday of April and I'm going to the Holedná field. There is a group of twenty travellers and nature lovers, who have decided to spend their Sunday evening in the open air. This event is called microadventure and its founder in the Czech Republic is journalism ex-student Jakub Venglář. He found the inspiration in England.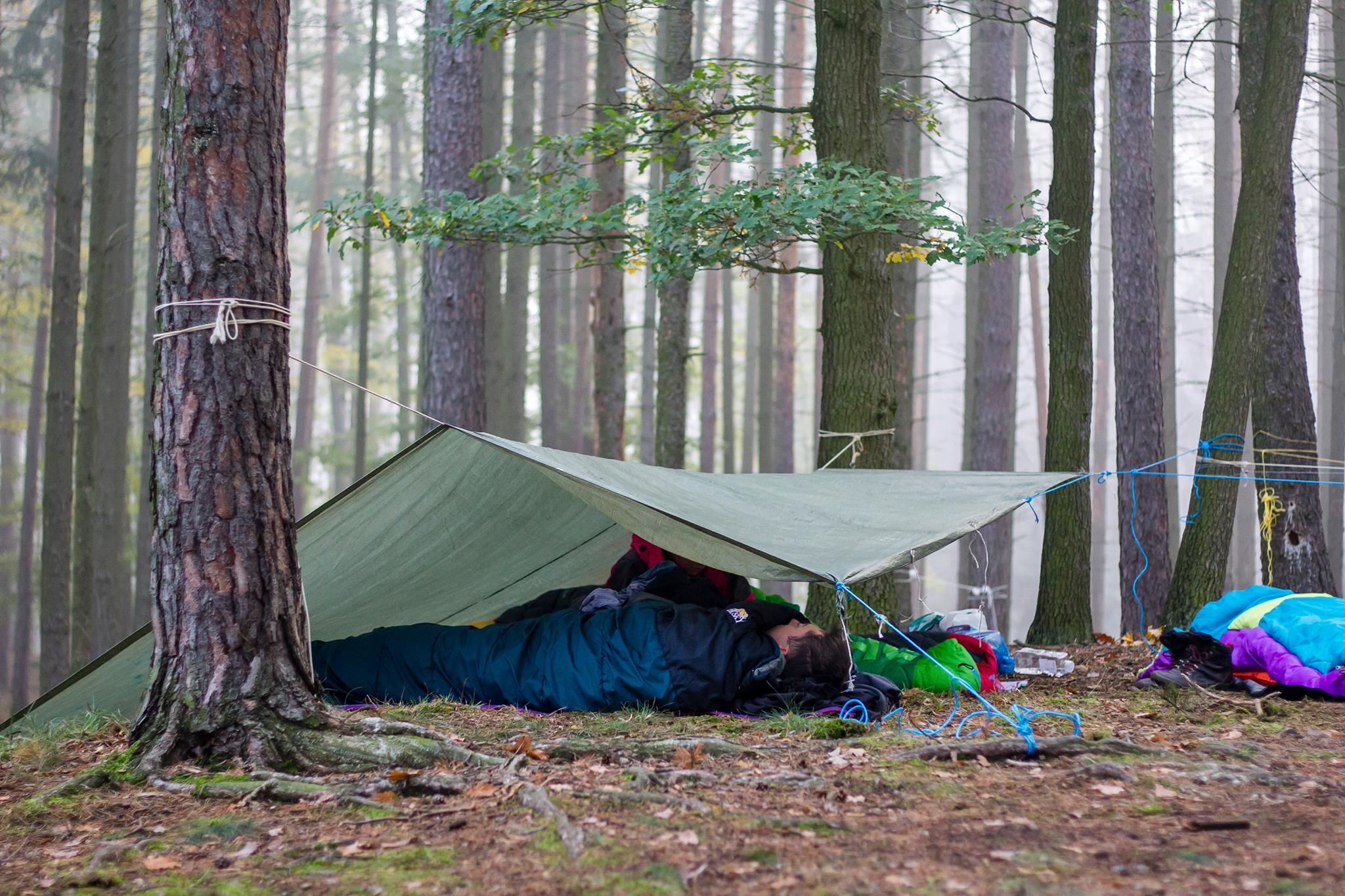 I am walking through the metal gate into the field, the door is shuffling so loudly. I probably scared all the animals here. In this area, mouflons and deer can freely run around. It is 8 a.m. I have a little hold-up, so I am going to an event called microadventures alone and in the dark. Fortunately, a flashlight belongs to my toolkit, so there is nothing to worry about, perhaps.
After half an hour of walking on the forest paths, a slight panic strikes me, maybe from my microadventures will become megaadventures when I will sleep here alone in the woods. But rescue comes at the right moment and I see three cyclists. "Also, on the micoadventures?" roars one of the cyclists. At the meeting point, which is a clearing at the quaint green pond, we arrive about five minutes later together.
There are about fifteen people sitting in the circle. They have unfurled coats, blankets and sleeping bags on the ground. Everybody's attention turns to a man who is sitting in the middle of a circle with a thermos in one hand and a tea kettle in the other. The only one of participants is illuminated by the soft light from the flashlight. "When I said we were inviting you for a tea party, it was not a joke. Sit down and make yourself at home," calls Kuba the organizer with a smile. So far, he is standing nearby, apparently still looking for the last latecomers.
"Tea is served," says the bearded man in the middle, he is offering warm tea in the adorable bowl. "This is green oolong, I'll be serving black tea in a minute, and then the top of the evening- home-made bariar tea," shouts a bearded tea master. Tea travels from one participant to another. But that's not all. People are picking up various goodies from their backpacks. "Who likes cashew nuts?" the gentle woman's voice calls. Soon there is a wonderful combination of smoked meat, goat cheese, grape wine and several kinds of biscuits and nuts.
Microadventures are not just about food or good tea. Participants present themselves and exchange experiences. There are experienced travellers who have travelled countries from Asia through Africa to South America, as well as people who have never been abroad and enjoy traveling to the beauties of their homeland. But all of them connects the love of nature and the joy of a small adventure, even for the one night.
The participants are enthusiastically changing the stories and advice. "I went through Montes Caucasus without the shoes, because they disbanded at the start of the trip," say one of men. "That is nothing. I lost in Georgian forest and ate only insect and berries for three days," reacts Kuba. People smile and add another stor.
There is strong wind and the participants feel cold of April evening. People are packing themselves to sleeping bags to escape the cold caress of wind. It would not be such a problem, but there is a big cold from the ground. Who does not have a sleeping bag or a roll mat, must regret the decision of sleeping outside. "Who's cold? I have an extra blanket, " shouts the men with a rough voice, but I can not see his face because of the dim light.
"Good night", say people about midnight from sleeping bags. It is dark, so you can excellently see stars. "Is not that wonderful? You will never see so many stars in the centre of Brno," says Kuba while enrolling his sleeping bag to his chin. It is such silence that it is scary a little. Suddenly I am hearing a big noise. This could be a mouflon or a deer, I hope....
After a night on the ground I wake up slightly broken and to my horror I find out that all the participants are gone. One of the microadventures rules is to be compatible with everyday life so the participants fled to work or schools. There was neither goodbye nor breakfast. But there is no reason to mourn, because another microadventure is going to be a next month.
Klíčová slova: traveling, microadventures
Fotogalerie
Hodnocení příspěvku
1 | 2 | 3 | 4 | 5 (1 - nejhorší, 5 - nejlepší)
Vkladání nových komentářů skončilo.
AUTOR
Zobrazeno 363×
Hodnocení 3.3 z 5
NEJNOVĚJŠÍ
12. 12. 2018 00:39
11. 12. 2018 15:41
10. 12. 2018 16:43
09. 12. 2018 23:04
09. 12. 2018 22:22