20.03.2018 21:48
The first year in Brno was harder than I could ever imagine, says Juraj from Slovakia
Juraj Durec is one of the most positive people I've ever met. However, his first year in Brno wasn't as successful as he thought. "I spent a whole year looking for a job and sometimes I was thinking about going back to Slovakia," says Juraj, now with smile on his face.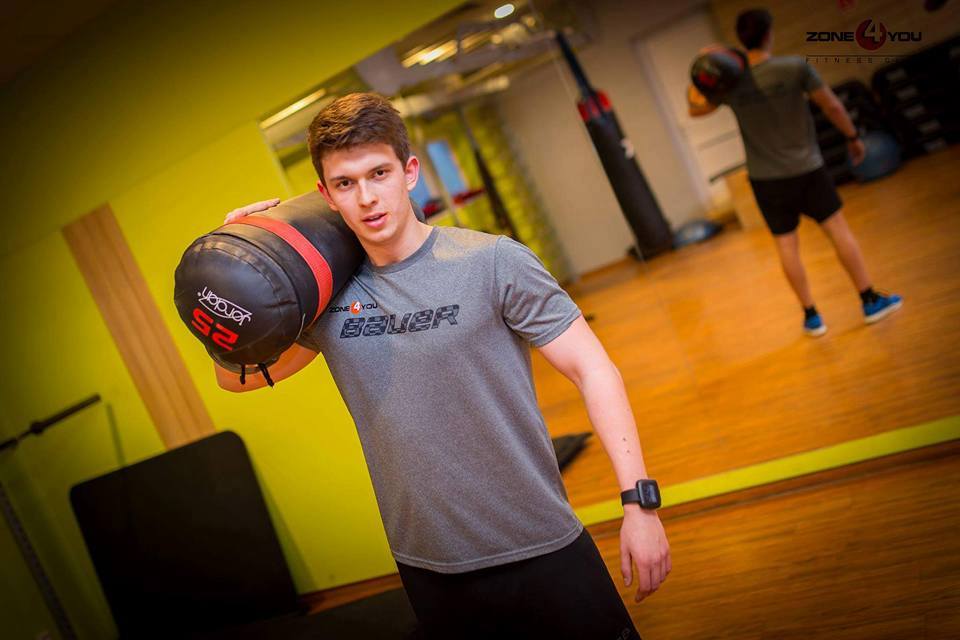 He really likes food, so we met in the school canteen. He came like always, with his white shoes, slim jeans and a tight t-shirt on so everyone could see his muscles. We ordered two pizzas as it's our - at least once a week - tradition and we started to talk.
Juraj went to the grammar school in Myjava where his schoolmates started to call him "Jerry". "I don't even know exactly how that nickname came into being, but I suppose that one of my schoolmates called me Jerry once and since then everybody has been calling me like that, even my parents," says Jerry and laughs. At grammar school, he also found his first love and they decided to go to the Czech Republic together and to study at the university.
Jerry has been interested in sport since he was five years old. With his older brother, he played a football at his birthplace Myjava and he was really good at it. In those times, working out was the second most important thing for him and because of that he decided to try Faculty of Sport Studies at Masaryk University. "Slowly but surely working out was something I've started to like more than football and that was the reason why I wanted to go to sports school with a specialization for fitness trainer," explains while showing me his huge biceps.
However, his football spirit brought him into a big trouble just one month before physical tests at the Masaryk University. During the match, he broke three ribs when he hit the metal goalpost when he tried to avoid getting a goal. "If I knew that it would end up like this, I would only watch how we get a goal," sighs while touching his cured ribs. Later in a hospital after he got all information about his health he knew that his hopes of getting to the Faculty of Sport Studies were lost, at least for that year.
His girlfriend was admitted to the University, so he decided to go with her, find a job, work in Brno for a year and then try out to get to his dream school again. Unfortunately, nothing worked as he imagined. "Friends who were living there at that time said I don't have to worry about finding the job. However, it wasn't that simple," says Jerry. He didn't want to work anywhere. He would fancy working as a fitness trainer because after healing his injuries he did a professional training course in Slovakia.
At his first job as a fitness trainer he lasted for about a month because he didn't have good relations with co-workers. He spent about a quarter of year in another gym but after that he left because it simply wasn't what he was looking for. "I worked around four different places during the year until I have found the right place where I've been for two years an I'm happy here," says and shows me some pictures of the gym where he works nowadays.
He has been so satisfied with this job and has been earning so much money that he started to think about not going to the University. "I told myself: You got money, you have flexible working hours and plenty of free time. Do you really need that school? Nevertheless, I answered myself that a degree from the University is always valuable and I decided to go to entrance exam," says proudly.
In these days, we are schoolmates. He has been able to combine his job and school which isn't something everyone can do. Thanks to this he has become independent of his parents. Jerry is the kind of a person who never gives up and reaches his aims whatever it takes.
Klíčová slova: Juraj Durec, fitness trainer, Masaryk University
Fotogalerie
Hodnocení příspěvku
1 | 2 | 3 | 4 | 5 (1 - nejhorší, 5 - nejlepší)
Vkladání nových komentářů skončilo.
AUTOR
Zobrazeno 471×
Hodnocení 2.4 z 5
NEJNOVĚJŠÍ
12. 12. 2018 00:39
11. 12. 2018 15:41
10. 12. 2018 16:43
09. 12. 2018 23:04
09. 12. 2018 22:22